UNIFORM, TARTAN & THE CAP BADGE
BADGE
The badge of The Cameronians (Scottish Rifles) is a Mullet of the Coat of Arms of the Douglas family upon a stringed Bugle Horn, within two sprays of thistles.
The badge reflects the origins of the regiment and its connections with the ancient and powerful Douglas family.

It also commemorates their origins in the Light Infantry, as indicated by the bugle horn.
Bugles were used in light infantry regiments to give signals in the field in the same way as the drum was used in infantry line regiments. In 1881, the new amalgamated regiment was designated as a rifle regiment.
TARTANS
The Cameronians did not wear tartan until 1881 when, in common with other Lowland regiments, they adopted the Government, or Black Watch, tartan. It was only in 1891 that the regiment was authorised to wear the Douglas tartan, which was taken into use the following year. The use of the Douglas tartan reflects the origins of the 26th Cameronian Regiment. In 1881, when the regiment was designated a rifle regiment, the officers and men were clothed in the distinctive Rifle Green cloth with bands of black thistle lace on the shako and black cords. The pipers of the regiment also wore the Douglas tartan.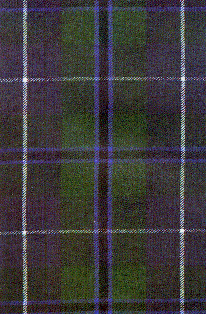 Douglas (Regimental) Tartan
Source: The Scottish Regiments by Diana M Henderson
Published by Harper Collins.
---
www.cameronians.org